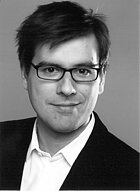 DFG-Projekt Liturgiereform
Anschrift
Lehrstuhl für Liturgiewissenschaft
Katholisch-Theologische Fakultät
Universität Würzburg
Paradeplatz 4
97070 Würzburg
Telefon 0931 - 31 8 10 86
Zimmer 333
Vita
Geboren 1981 in Bonn
Studium/Ausbildung

2010-2012 Graduiertenschule für die Geisteswissenschaften, Universität Würzburg
2009-2011 Medienausbildung und -training für Theologen, Institut zur Förderung publizistischen Nachwuchses (ifp), München
2007 katholische Theologie, Pontificia Università San Tommaso d'Aquino, Rom
2005-2006 Kommunikationsmanagement, Hogeschool Utrecht
2002-2009 katholische Theologie, Publizistik- und Kommunikationswissenschaft, Freien Universität Berlin


Thema der Magisterarbeit
Pro iudais. Zur Geschichte und Theologie der Karfreitagsfürbitte für die Juden


Forschungsschwerpunkte
Liturgiereform und Frömmigkeit
Liturgiewissenschaftliche Zeitgeschichte
Empirische Methoden in der Liturgiewissenschaft


Dissertationsprojekt
Liturgiereform und Frömmigkeit. Zum Wandel des Prozessions- und Andachtswesens im Bistum Würzburg 1945-1975


Publikationen
Benjamin Leven: The Good Friday prayer for Jews. A "Bordeline case" of Christian prayer. In: Studia liturgica 41 (2011), 78-91.
Benjamin Leven, Martin Stuflesser: Die Feier des Oster-Triduums. Ergebnisse einer Befragung 1984 und 2010. In: Heiliger Dienst 65 (2011), 194-216.
Benjamin Leven, Martin Riß: Die Liturgiereform. Stand der Diskussion und methodische Neuansätze. In: Martin Stuflesser (Hrsg.): Sacrosanctum Concilium: Eine Relecture der Liturgiekonstitution des II. Vatikanischen Konzils (Theologie der Liturgie, 1). Regensburg: Pustet 2011, 119-128.
Martin Stuflesser: Derselbe Sinngehalt – unterschiedliche Feiergestalt. Transatlantische Beobachtungen zur liturgischen Praxis zweier Ortskirchen. In: Kai Reinhold und Matthias Sellmann (Hrsg.): Katholische Kirche und Gemeindeleben in den USA und in Deutschland. Überraschende Ergebnisse einer ländervergleichenden Umfrage. Münster: Aschendorff 2011, S. 163-176. (Mitarbeit bei der Auswertung der empirischen Daten).


Mitgliedschaften
Societas Liturgica
Würzburger Diözesangeschichtsverein
Görres-Gesellschaft

Ausführlicher Lebenslauf