Religious Education in a Plural Western Society
Hans-Georg Ziebertz
LIT (Münster/Germany, in cooperation with Transaction Publishers, New Brunswick/USA and London/UK)
2nd expanded edition 2008 (1st ed. 2003)
ISBN 978-3-8258-6692-1 - 232 pages - € 17,90
(Vol. 11 of the series Empirische Theologie)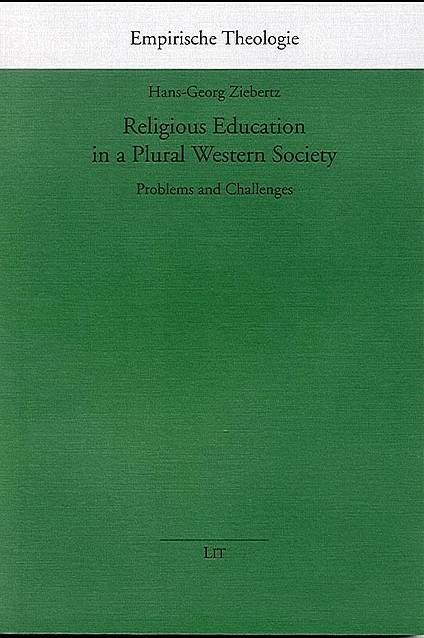 Plurality is a decisive characteristic of the modern Western world. Plurality also exists with regard to religion. When plurality is spoken of, not only the historically established religions such as Christianity, Islam, and Judaism are meant; we also encounter plurality in the religious attitudes of people. Their beliefs and practices can have religious character without having to understand themselves within the context of a religious community – religion is not to be found only in the churches anymore. Plurality also exists within each religion. Yet plurality reigns even within one specific church.
This book reflects on the premises and goals of Religious Education. It takes up the diversity of religions and the diversity of worldviews. In this book the concept of plurality is worked out as a challenge: Religious learning processes are constitutive at their beginning already characterized by plurality. In encountering and interacting with what one considers to be strange, alien, and other, he begins to ponder the question of who he himself is.
Content
Social Contexts of Religious Education
1 Challenges of Religious Education
2 Religious Education in a Multicultural Society
3 Educating Religion
Reflecting on the Goals of Religious Education
4 Religious Didactics as a Reflection of the Process of Religious Learning
5 Religious Education as an Opening of the Religious Dimension of Reality
6 Functions and Objectives of Religious Learning
7 Identity as Narrative and Process
Religious Education and the Plurality of Religions and Values
8 Religion, Religiousness, and Inter-religious Learning
9 Teaching Ethics in a Plurality of Values
The Dimension of Space
10 Educational Space Inside and Outside of School
11 Religious Education and the Public
Religious Education as a scientific discipline
12 Methodology: The Empirical Orientation of Practical Theology
13 Empirical Descriptive Orientation versus Normativity?