Hans-Georg Ziebertz, Friedrich Schweitzer (eds.)
Münster/Hamburg/London 2007 (LIT-Publisher), 220 pages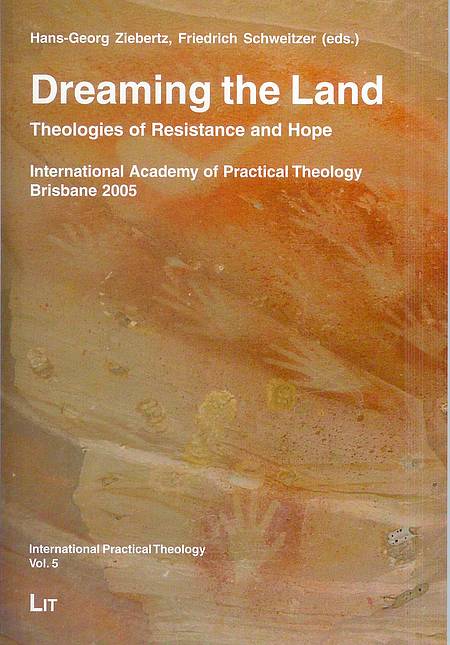 Dreaming the Land: Theologies of Resistance and Hope is a theme that testifies to the contextual nature of practical theology. This present volume contains a collection of essays with international contributions to practical theology. In their original form, these essays were presented at the seventh biennial conference of the International Academy of Practical Theology (IAPT) held at Brisbane/Australia in June 2005. The dreaming and the land are both concepts central to the thinking of the aboriginal peoples of Australia. The dreaming encompasses the creative and life giving forces which govern and express the lifeworld of these same people, while the land is sacred space where the spirits of the ancestors of all human, plant and animal life are represented. The theme is the common thread in the first part of the book. Here, the search for Theologies of Resistance and Hope is related to experiences in the southern hemisphere, to issues of the land as a concept for practical theology and to questions of human rights.
Content
Part I:Terra and Theology
Daniel J. Louw
Dreaming the Land in Hope: Towards a Practical Theological Ecclesiology of Cura Terrae
Jaco S. Dreyer
Land Reform: A Key Human Rights Issue and a Challenge for Religion in Post-Apartheid South Africa
Raymond J. Webb
Muslims, Christians, Dreaming: The Importance of Place
Riet Bons-Storm
Le Chaim! Pursuing Possibilities of Resistance and Hope for Indigenous Australian Women
Hans-Georg Ziebertz
Religion and the Anthrophosphere of Europe: Empirical Reconnaissance among Adolescents
Part II: Religious Pluralism and Theology
Johannes A. van der Ven
The Multicultural Drama: Religion's Failure and Challenge
Gerald Hall
Interfaith Dialogue: Theology, Practice and Promise
Terence Kennedy
Natural Law and the Pluralism of Cultures
Friedrich Schweitzer
The Development of Religious Identity in Childhood and Adolescence: Theoretical and Empirical Perspectives
Wilhelm Graeb
The Aesthetic Dimension of Religion Images as Scenes of Remembrance and Hope
Part III: Religious Practice and Theology
R. Ruard Ganzevoort and Johan Bouwer
Life Story Methods and Care for the Elderly: An Empirical Research Project in Practical Theology
André Beauregard
Writing a Public Theology within the Challenge of a Pluralistic Society
Edward Foley
The Ministry Incident Report (MIR): Ministerial Memory as an appropriate Text for educating Practical Theologians
Doris Nauer
Multidimensional 'Soul Care'
F. Gerrit Immink
Theological Concepts in Empirical Research
Norbert Mette
Vision as a basic Term in Practical Theology