Felix Fleckenstein wird Lehrbauftragter am Lehrstuhl für Dogmatik
Felix Fleckenstein wird zum WS 19/20 Lehrbeauftragter am Lehrstuhl für Dogmatik.

Von 2013 bis 2019 hat Felix Fleckenstein Kath. Theologie an der Julius-Maximilians-Universität studiert. Sein Studium hat er in diesem Sommer mit Auszeichnung abgeschlossen. Während seines Studiums hat er bereits als studentische Hilfskraft am Lehrstuhl für Dogmatik gearbeitet und mehrere Tutorien eigenständig verantwortet.

Im kommenden Wintersemester gehören zu seinen Tätigkeiten am Lehrstuhl die Vorlesung zur Schöpfungstheologie & Anthropologie, ein Lektürekurs zur Eschatologie sowie der Vorbereitungskurs auf das Staatsexamen.

Weitere Informationen zu Felix Fleckenstein finden Sie hier.
Neue Veröffentlichung von Florian Klug

© Ferdinand Schönigh

Erlösung und Erbsünde – Eine Verhältnisbestimmung mit den Kategorien von Ästhetik, Erotik, Ironie und Narzissmus.

Das Buch stellt sich der Frage, wie Erlösung aktuell verstanden werden kann und welchen theologischen Gehalt die Erbsündenthematik dafür bereitstellt. Von der philosophischen Theorie der Subjektwerdung aus geht die Analyse auf die Gnade als lebendige Begegnung mit dem dreieinen Gott im menschlichen Gegenüber und in den sakramentalen Feiern ein. Anschließend kann das gelungene Menschsein als heteronome Selbstwerdung in Gemeinschaft bestimmt werden. Als zentrale Kategorien der Analyse dienen hierfür Ästhetik, Ironie, Erotik und Narzissmus, um daran eine relecture der Erbsünde vorzunehmen, die der erlösenden Heilstat Christi stete Priorität einräumt.

Weitere Informationen



Prof. Dr. Frank Ewerszumrode OP erhält Fachschaftslehrauftrag im WS 19/20
Im Rahmen des Fachschaftslehrauftrags hält Prof. Ewerszumrode im WS 19/20 ein Hauptseminar zur Eucharistie.

Das Seminar will einen Überblick über die verschiedenen Positionen und Entwicklungen der Eucharistielehre geben, angefangen von den Zeugnissen der Heiligen Schrift bis in die Gegenwart hinein. Ein Schwerpunkt wird dabei auch auf die reformatorische Abendmahlslehre gelegt. Weiter werden auch andere ökumenische Fragestellungen sowie aktuelle systematische Aspekte behandelt.


Das Seminar wird als Blockveranstaltung angeboten und findet im Sitzungszimmer/Seminarraum 1 in der Bibrastraße 14 statt:

- Freitag 18.10.2019 13:15-19:00 Uhr
- Samstag 19.10.2019 9:00-18:00 Uhr

- Freitag 13.12.2019 13:15-19:00 Uhr
- Samstag 14.12.2019 9:00-18:00 Uhr

Weitere Informationen
Forschungsaufenhalt an der Durham University:


Im Bild (v.l.n.r.): Prof. Rik Van-Nieuwenhove, Prof.Karen Kilby, Prof. Marcus Pound, Dr. Eddie Howells (University of Roehampton, London), Dr. Florian Klug

Forschungs- und Weiterbildungsaufenthalts von Dr. Lic. theol. Florian Klug an der Durham University (England).

Im Rahmen der Early Career Conference in Catholic Theology and Catholic Studies hielt Dr. Florian Klug am 12.06.2019 einen Vortrag zu: »Paul and Irony. A revision of the binary patterns of truth.« am Center for Catholic Studies (CCS).

Ebenso nutzte Dr. Klug den Aufenthalt zur Anbahnung einer Forschunskooperation. Gefördert wurde die Forschungsriese durch das Erasmus-Plus Programm der Europäischen Union.
Veröffentlichungsankündigung:

© Turia & Kant

Florian Klugs Übersetzung von Adam Kotskos Werk:
»Der Fürst dieser Welt – Eine Genealogie des Teufels«
erscheint im August 2019 im Turia & Kant Verlag.
Dr. Frank Ewerszumrode wird Lehrstuhlvertreter zum WS 2018/2019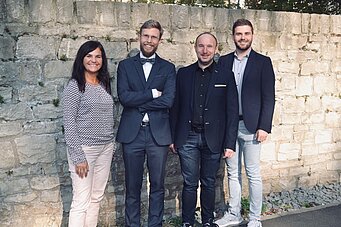 Festschriftübergabe an Prof. Otmar Meuffels
04.05.2017 um 18:00 Uhr im Hörsaal 318 der Neuen Universität am Sanderring.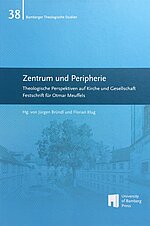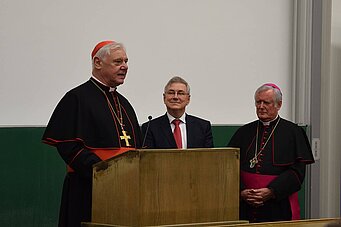 Laudatio – Prof. Dr. Jürgen Bründl
Festschriftübergabe durch Bischof Friedhelm Hofmann & Kardinal Gerhard Ludwig Müller
Klug, Florian, Der versöhnte Blick und die Gabe des Anderen. Eine ästhetische relecture der Erbsünde, Paderborn 2019.

Bründl, Jürgen/ Klug, Florian (Hg.): Zentrum und Peripherie. Theologische Perspektiven auf Kirche und Gesellschaft. Festschrift für Otmar Meuffels (BamTS; 38), Bamberg 2017.

Klug, Florian: Sprache, Geist und Dogma. Über den Einbruch Gottes in die Wirklichkeit des Menschen und dessen sprachliche Aufarbeitung, Paderborn u.a. 2016.

Klug, Florian: Michael Schmaus: Grundriss seines theologischen Denkens, in: Cornelius Keppler/ Justinus Pech (Hg.): Einflussreich, aber vergessen?. Theologische Denker aus der 1. Hälfte des20. Jahrhunderts, Heiligenkreuz 2016, S. 141-160.